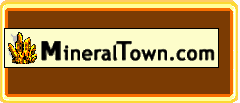 Trade. Minerals websites directory
Rocks, minerals and fossil web directory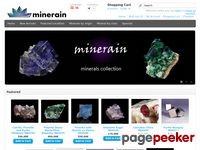 Venta e intercambio de minerales de colección
Página web dedicada a la venta e intercambio de minerales de colección de yacimientos clásicos y novedades. Fluoritas de Berbes, La Collada e Inglaterra, piritas de Navajún, dolomitas de Eugi, calcitas, mesititas, cuarzos ...
Servidor de Familia Araguz
Encontrareis una serie de fotografias de minerales y fósiles de localidades Españolas y de otros paises, espero que la visita sea de vuestro agrado. Soy Santiago Araguz aficionado coleccionista y buscador de minerales y fosiles , pertenezco al G.M.C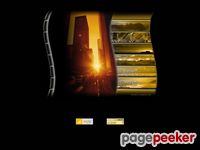 Pegmatite
I began to collect minerals when since seven years went to the Kola peninsula with geological party. During the present moment my subject lays in the field of aesthetic specimens of minerals from pegmatite formations such as: beryls, topazes, tourmalines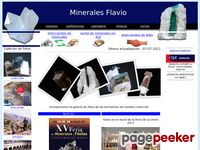 Minerales Flavio
Minerales de colección, venta e intercambio de minerales, fotos de minerales, ferias de minerales, minerales de Granada España, minerales de Argentina , noticias y artículos sobre mineralogía, cristalografía.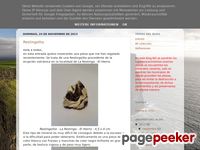 Minerales de Gran Canaria
Tengo minerales de Gran Canaria de todo tipo para intercambio ( Moganita, Calcedonia, Obsidiana, Rosas de Yeso, geodas de cristal de roca etc ).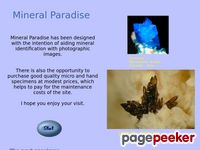 Mineral Paradise
Mineral Paradise has been designed with the intention of aiding mineral identification with photographic images. There is also the opportunity to obtain by purchase (or swap) good quality micro and hand specimens at modest prices ...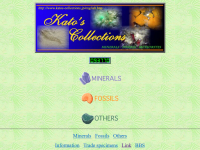 Kato's Mineral Fossil Collection
Minerals,Fossils,Others,Information,Trade specimens,Link,BBS ...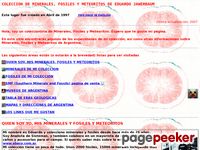 COLECCION DE MINERALES Y FOSILES DE EDUARDO JAWERBAUM
Hola, soy un coleccionista de Minerales y Fósiles. Espero que te guste mi página. En este sitio encontrarás algunos de los especimenes de mi colección, asi como otras informaciones sobre Minerales y Fósiles de Argentina.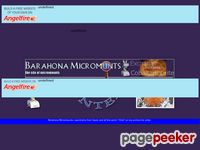 barahona micromounts
the cobaltarthurite discovered page